We are a recognizable digital product studio with 12 years of experience in software development. having roots in Poland, we operate across Europe with 60 partners. We help companies to succeed by developing their solutions, making them grow, and boosting their business.

To build the software right based on a well understanding of users' unmet needs, focusing on our client's business goals. We also build the right software choosing the best methodologies, frameworks, technologies, tools, and processes to solve user problems with digital solutions.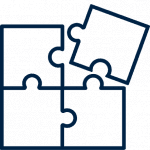 To develop the right software and develop the software right, we let our partners know the necessary steps to achieve their goals backed by scientific methods. We keep our clients informed throughout the process and deliver a product that lasts and can adapt to new markets.
We apply science-backed methods. These are:
To address the project's needs and create an innovative solution for the market.
To engage with the users who will use the products developed by our team.
( After-action review
and before-action review )
These methods focus on constant communication, error fixing, prevision, and accurate simulation of the project's outcomes.
Do you want to learn
how we can help you?
Lea sp. z o.o. z siedzibą w Toruniu, ul. Włocławska 167, 87-100 Toruń, wpisana do rejestru przedsiębiorców prowadzonego przez Sąd Rejonowy w Toruniu, VII Wydział Gospodarczy Krajowego
Rejestru Sądowego pod nr KRS 835659, NIP 9522205303, wysokość kapitału zakładowego: 5 000 zł
Lea sp. z o.o. z siedzibą w Toruniu, ul. Włocławska 167, 87-100 Toruń, wpisana do rejestru przedsiębiorców prowadzonego przez Sąd Rejonowy w Toruniu, VII Wydział Gospodarczy Krajowego
Rejestru Sądowego pod nr KRS 835659, NIP 9522205303, wysokość kapitału zakładowego: 5 000 zł
Lea sp. z o.o. z siedzibą w Toruniu, ul. Włocławska 167, 87-100 Toruń, wpisana do rejestru przedsiębiorców prowadzonego przez Sąd Rejonowy w Toruniu, VII Wydział Gospodarczy Krajowego
Rejestru Sądowego pod nr KRS 835659, NIP 9522205303, wysokość kapitału zakładowego: 5 000 zł